One of the coolest changes in the last few years is seeing friends and family dedicate a lot of their time to freelancing or creating their own business. I could visualize their imagination & creativity running wild by the conversations we were having. Yes, things have been rough since the COVID pandemic started, but it has been awesome to see others spend their mental energy doing things they genuinely enjoy and make extra cash.
I've been thinking about how I can encourage my community to continue doing what they're doing while adding my own SEO twist to it. If you're not familiar with SEO, it stands for Search Engine Optimization, one of the specialized branches under digital marketing that deals with earning free traffic from search engines like Google.
Since almost 50 percent of all small businesses close their doors within just 5 years of opening. These range from a lack of market need, running out of capital, being outcompeted, and poor marketing, among others. Fortunately, there are plenty of ways to support our friends with small businesses, and many of these won't cost you anything. Here are 9 effective ways to help small businesses in your community for free: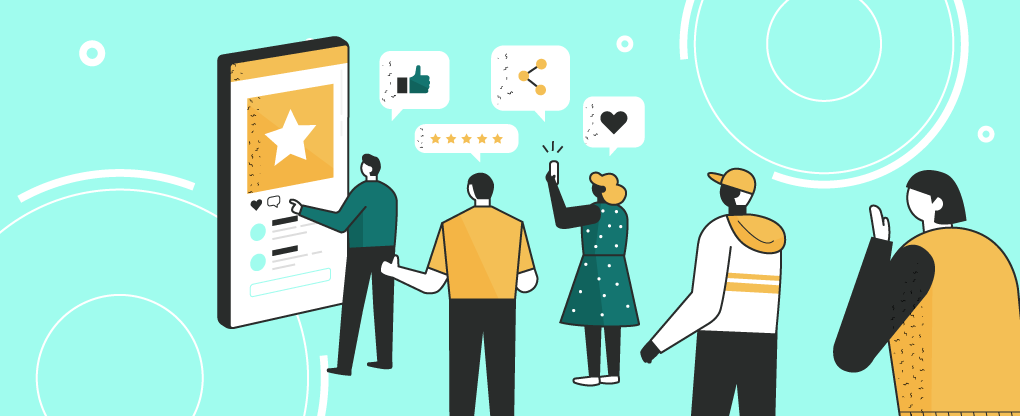 Follow, Like, Comment, and Share with Friends
Social media reach is so integral to small businesses. Actively following and engaging with the social media profiles of small businesses is much more valuable than you would think.
If you follow, like, comment, and share the page of a small business, it helps them connect better with you and allows them to reach a wider audience since posts with higher rates of engagement from real users are more likely to show up in people's news feeds. It's not only easy and doesn't cost you anything, there are also Search Engine Optimization benefits that can help their digital marketing efforts. On the SEO side, it tells search engines that people are talking about a brand & further legitimizes them.
Leave Positive Reviews
Online reviews are perhaps the most influential things to a business or product. Today, the purchase decisions of most buyers are influenced in some way by the reviews they read online. So, the next time you visit a small business or have a positive interaction with them, take several minutes to leave them a positive review on social media or Google since it can make a big difference.
Although Google reviews tend to be more desired by businesses due to their impact on Search Engine Optimization, any form of review on any platform will help legitimatize their business and provide social proof signals. Reviews, at the end of the day, confirm that your friend's business is trustworthy, which is becoming an increasingly important concept in SEO.
Post Pictures of Their Product
If you recently purchased a product from a small business and are genuinely impressed, photograph it in use and tag the business. If people see others actually using the product, it creates social proof and helps other buyers build trust & confidence when deciding whether they want to buy from that business.
As mentioned before, social media engagement associated with their business profile can immensely help their digital marketing visibility.
Answer Google Maps Questions
If you have ever looked at Google Maps, you have probably come across questions from users about local businesses. If you know the answer to the question that's asked, you can respond to it and potentially help drive more customers to small businesses in your area.
Volunteer to Help Their Social Media
If you are good at social media or other forms of digital marketing, you can help small businesses in your community with at least one of the platforms by volunteering or doing pro-bono work. While most businesses have gone digital, not all know how to handle social media or digital marketing correctly. It's likely they're busy managing other areas of their organization and would greatly appreciate the help. You can volunteer to assist with one of their platforms or part of the work. It will not cost you anything and you can still offer your support.
Give Referrals
If you had a good experience with them; tell your friends, share it with your family, encourage your co-workers, or mention it to a neighbor. Even if they don't need this business right there and then, people remember these conversations. Word-of-mouth marketing is one of the most powerful forms of advertising. People close to you will value your opinion and trust your knowledge and experience of the business. This kind of marketing is invaluable to a local business and doesn't cost you a cent.
Use Their Promotional Products
If you have received a promotional product from one of your favorite small businesses, you should use it. Drink your morning coffee out of their mug, wear that t-shirt when you can, or take notes with their pen. Whatever it might be, you will be helping get their information and logo in front of potential new customers.
Sign Up to Their Newsletter
If you aren't on social media but still would like to support small businesses in your community, sign up for their newsletter. It is where businesses typically let loyal customers in on new deals first. It is a more personal approach that lets you in on what's happening in the business. You may even consider forwarding the email to family or friends who may also be interested.
Send Them a Nice Message!
Small business owners are some of the hardest workers in the country. If they're early in their small business venture, it's likely they're working other jobs at the same time. Sometimes it might feel like all the hard work they put in goes unnoticed due to lack of online visibility. If you really love what a small business is doing, let them know! You are the reason why they do what they do, and hearing that you appreciate their hard work would put a smile on their face.
Final Thoughts
Small businesses are the lifeblood of most local economies but usually have tiny budgets or none at all. Spreading the word allows them to keep doing what they do best, and helps their digital marketing efforts.
Supporting small businesses not only benefits the economy, but you are also giving our friends the opportunity to live out their dreams with each passing day. The shops add life and personality to local communities and job opportunities for many people too.